Expert Level Horry County Roofing Contractor Services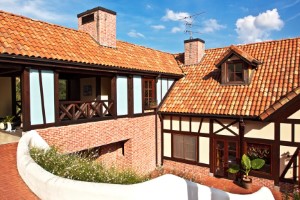 Since 2009, The Roof Maker, Inc. has been the name to call on when it comes to Horry County roofing company services. As you probably realize, your roof is the most important component of your house; it protects the entire rest of your home from the elements.
That means every facet of service you receive for it must be unsurpassed quality. From the installation to the replacement, don't settle for less than the best for the roofing on your Horry County house.
Together We Can Protect Your Roof
Savvy Horry County homeowners are always looking for ways to take better care of their roofing. One essential way to do this is with regular roof inspections, but why is that?
You should schedule your inspections twice a year; once in the fall and once in the spring. This enables an industry expert to have a look at what's going on behind the scenes with your roof. This is the best way to spot existing issues and deal with them in a prompt and professional manner.
Sure, maybe your roof technically doesn't need repairs, but it may need improving. Inspections afford a pro the ability to locate areas that should be improved, such as gutters or insulation. These seemingly small details could be adjusted and enable your roof to provide you with many more years of quality service
Learn more about the benefits of an inspection from a pro Horry County roofer by giving us a call, today!
If you are looking for a Roofing Professional then please call 910-845-2255 or complete our