Protecting Your Home With Roofing Inspections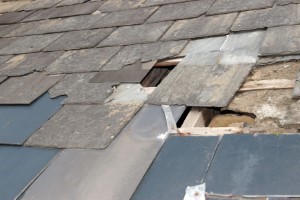 To take care of your home, you need a professional North Carolina roofing contractor to do a thorough exterior roof inspection to determine if there are issues with the surface materials, flashing, gutters or eaves of a residential roof. If so, depending on the extent of the problems, either repairs can be made or the entire roof can be replaced.
Locals here rely on The Roof Maker, Inc. for this type of work, from a reputable name that has been around since 2009. However, our hands-on expertise in the business spans back to cover over 20 years now.
What You Need to Know About Roofing Inspections
Different types of roofing materials have different types of problems to look for.
Asphalt shingles will curl up where the wind has been able to penetrate beneath them. Bald spots will appear where exposure to the elements has worn away mineral granules.
Metal roofs usually last at least 50 years and do not leak. They can become warped, bent and dented, however, and roofing inspectors will look for this. They can also become corroded, especially in areas near the seashore where there is a lot of salt and moisture in the air.
Tiles rarely get leaks but individual tiles can break as the result of heavy impact. We can assess the damage and help your home get 100 years of protection from your tile roofing.
When it comes to flat roofing, the main issue is often leaking or a lack of drainage. For this or any other problem that may arise, we will address your individual service needs.
Don't settle for less than the best when it comes to your roofing inspection, make it a point to contact The Roof Maker, Inc.
If you are looking for a roofing inspection then please call 910-845-2255 or complete our