High-quality Tile Roofing Systems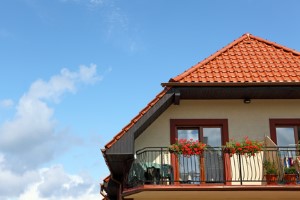 You can't mistake the look of a tile roofing system. In fact, its unique look is one of the reasons homeowners make the decision to opt for this type of roofing material.
The Roof Maker, Inc. can masterfully execute any and all of your service needs for this type of structure, including installation, maintenance, repairs and replacement.
Superior Workmanship for Unsurpassed Results
Our team has built quite the solid reputation for the work we do on any style of roof, including tile. So now you know about our capabilities.
What you need to know about is what makes tile such a great choice:
When it comes to longevity, it would b hard to find something to outlast tile. Even metal roofing which is heralded for its lifespan offers only about half of what tile cam. The average lifespan of a metal roof is 50 years while the longevity of a tile roofing system is 100 years.
This style of roofing is also not susceptible to damages from common issues that can develop with a roof, such as rot of insect damage. When you invest in tile, you can feel confident that your roof will not decay.
If you want to invest in low maintenance roofing, tile is the way to go. The risk of a leak is low and maintenance, in general, is not common. Contrary to popular misconception they are not easy to break, but if heavy impact does cause breakage you can replace individual tiles.
If you're looking for a tile roofing company that you can trust in North Carolina, contact The Roof Maker at 1 800 DRY CLUB.
Our professionals will be happy to answer any questions and welcome inquiries about our services.
If you are looking for a Roofing Professional then please call 910-845-2255 or complete our