Prompt & Professional Commercial Roofing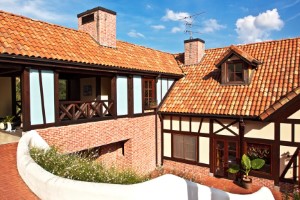 The Roof Maker, Inc. offers many excellent commercial roofing options, for your North Carolina business. The best professional roofing company can help a business owner pick the correct choice of roofing material out of the money available.
It is good to have options both as a business owner and a consumer. What matters the most though, is that you have a trustworthy expert to offer guidance as well as skilled craftsmanship.
Understanding Some of Your Options
You may already be familiar with some of your choices, or maybe you are just starting to do your research.
A hot mopped roof is one of the most popular types of commercial applications, especially warehouses and storage facilities. It is quite cost-effective and offers excellent protection from the elements due to the unique construction of the roof. It is composed of layers of bitumen (asphalt) and roofing felt, and is ideal for keeping moisture at bay.
Metal roofs are also a very common selection among our satisfied customers. Metal roofs combine excellent weather resistance with unsurpassed durability. A properly maintained metal roof can last for up to 50 years in the right conditions.
Sprayed foam roofing, or SPF, is relatively new and is a plastic based synthetic sprayed from a tank that rapidly hardens. This is an ideal insulator and is good at keeping precipitation from permeating the roof.
Asphalt shingles are still the most commonly used type of roofing. They are affordable and provide sufficient weather protection. Asphalt shingles can also be covered with other types of roofing materials. Which makes reroofing much quicker
The best approach to take for success with your commercial roofing is to let us do the job for you.
If you are looking for a commercial roofing company then please call 910-845-2255 or complete our