Roof Repairs: Maintaining the Integrity of Your Rooftop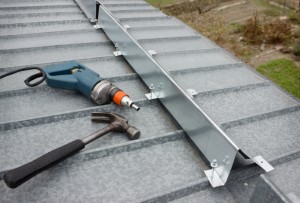 The Roof Maker, Inc. is a trusted local North Carolina company with the skills and experience that locals want when it comes to caring for their homes and businesses. Licensed and insured, the roofers working for this company provide customers with the best services in the region, including roof repairs.
We provide locals with the information they need about the current state of their roof, as well as the repairs required to get it back to tiptop shape. Your roof should last for at least 20 years, our job is to make that possible for you.
What We Have to Offer
If we are doing the repairs to your roof then the esitmate is free, this is just one reason why so many locals turn to The Roof Maker for help. Licensed and insured roofing contractor will come right to the job site, inspect the roof, downspouts and other parts of the roof.
All estimates include both the cost of required materials and labor costs. Those who own businesses and private homes can rest assured that they won't face any surprise charges or hidden fees when they hire these roofing experts.
Roofers have experience handling different types of storm damage as well, including missing shingles, loose gutters or missing downspouts. They can come out the day after a big storm passes through town to inspect the property.
The Roof Maker can install a brand new roof system that includes gutters, downspouts and a new underlayment. Workers also have experience making more affordable repairs to existing roof and decking systems.
Quality always matters when it comes to your roofing repairs, so call us now to expertly take care of yours.
If you are looking for roof repairs then please call 910-845-2255 or complete our